I was going to title this post, "Worst. Vacation. Ever." But that only begins to hint at the experience I had. Not given to whining, I've already put it in the past, but I want to post The Most Expensive Photo I've Ever Taken. Ready? Here it is: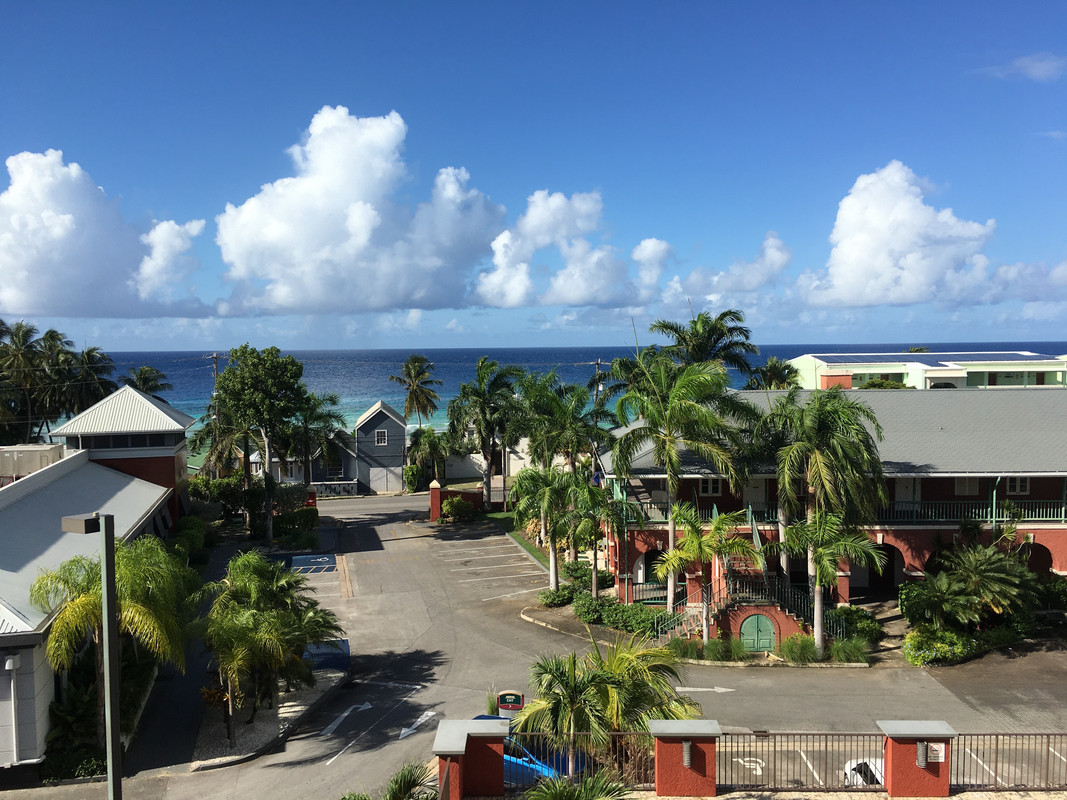 Not much, is it? It's a pleasant enough scene of a tropical location, looking out into the ocean. But it will never win any photo prizes. Or any other prizes, for that matter. Why it's The Most Expensive Photo I've Ever Taken is the rest of the story.
My plan was to scout out Barbados as a potential remote "work from home" location. To that end, I made the most horrendous travel plans and chose to go while there is a global pandemic scaring everyone. I'm going to blame my temporary insanity on my own cabin fever brought on by working from home for the past six months. But I only have myself and COVID-19 to blame.
The first inkling things were going sideways was when I learned (on my own, no thanks to no notification from the airline) that Air Canada had canceled one leg of my return flight. Wanting (needing) to get home for work, I had to reschedule, and that cost me two days of my trip. No reduction in an already high-priced air fare. My itinerary took me through Toronto, where I had to spend the night in the terminal, because to leave the premises would have required me to quarantine for 14 days. 12 hours in a terminal is preferable. But not comfortable.
When I arrived in Barbados, I had my medically ordered COVID-19 test results in hand (negative) and I showed them to the airport authorities. "These are too old," I was told. The time needed to obtain the results, plus the long layover in Toronto had caused them to pass the expiration time required by Barbadian authorities, which is within 72 hours of arrival. Not to worry though, I was told. We'll give you a free test here. You'll have to wait here for the results, but that should take only 8-10 hours. At least they were kind enough to bring me some food while I waited. And, as I expected, the results were once again negative.
But, I was told, you come from a high-risk country, the U.S.A. So even though you test negative, you may still be asymptomatic, and so we require you to be quarantined for seven days at minimum. And, that quarantine has to be at either a military base, which costs nothing, or at an approved hotel, which I would have to pay for. I didn't like the sound of "military base," so I opted for the Marriott, which was one of their approved hotels. They made the reservation, arranged a taxi, and I was taken directly to the hotel, where the desk clerk told me that at least I would have a room with an ocean view. The photo above, is the only scenery I saw for the next four days. It's out the hotel room window!
Calculating the cost. Well, I'm not going to itemize every little expenditure; that would just as insult to injury. Airfare, lodging, plus non-refundable hotel reservation, pre-paid rental car, room service meals, taxi fare, airport parking as well as the cost to comfort (having to spend two nights in the Toronto airport, having to wear a mask except while eating. As well as while waiting in the Barbados airport and during flights).
That makes it The Most Expensive Photo I've Ever Taken.